Stargate has the most Experienced faculty in this industry, We have more 25+ years of teaching for CA, CMA & CS
More Than 25+ years of Experienced faculty for CA, CMA & CS.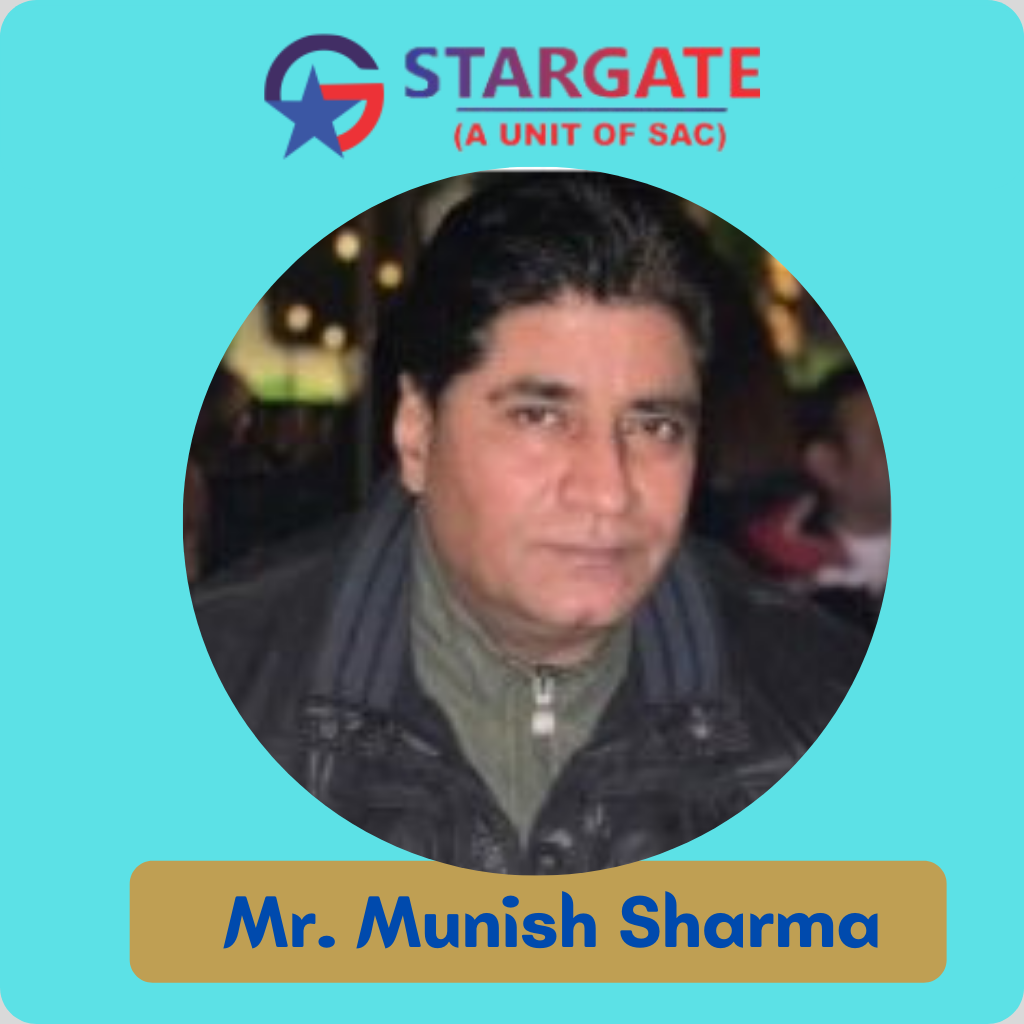 Business Mathematics and Logical Reasoning & Statistics
Business Mathematics and Logical Reasoning & Statistics
Mr. Munish Sharma – A teacher with having a strong background in Mathematics / Statistics /Vedic Mathematics and Operations Research having an enormous 33 years in Delhi. I taught almost all levels of academic & professional courses. Not only had I believed in imparting theoretical & academic knowledge but also to expose students to the application aspects of Mathematics by relating to day–to–day life. Over the period he has taught thousands of students from all the fields; is it Specially Class IX to XII, IIT, CA Foundation, B.COM (P), B.COM (H), Maths (H), Eco (H), Actuarial Science, and M.B.A. and many more professional courses and always to take up anything new in Arjun Style which includes Mathematical Research.
My old students who are now Teachers/Doctors/Engineers/Lawyers/Chartered Accountants/MBA's, almost in every field my students are doing so well in their field.
In my long teaching career, I had taught mainly in my banner keertiman Munish classes along with teaching for around 6 years in India's one of the top institute V.G.L.D.(Vinod Gupta Learning Destination) under Respected Sh. Vinod Gupta Sir (VG Sir) Memorable achievements by my students, for me, are countless a few I want to share my student Ankit Gupta (20203) All India top in CT-1 (Financial Mathematics) in November 2010 Attempt and recently in 2020 my one of CAT Aspirant Jayati Maheshwari crack IIM's entrance with 99.06 Percentile.
The Professional Career of Professor Dr. Sachin Gulati is a perfect blend of academic brilliance and vast teaching experience. He has been topper throughout his graduation (B.Com. Honors from Delhi University) and post-graduation studies (M.Com. from Delhi University, M.Phil. and Ph.D. from Delhi School of Economics).
After completing academic and professional education, he exposed himself to the practice as Professor.
Finally, guided by his natural teaching instinct, he adopted teaching as his career. He is having professional specialization in the fields of Economics and Management since the year 2000. His live classroom discussion drawn from the practical life, technique of approach to the subject matter, in-depth knowledge, guidelines for the preparation of examination, scientific and simplistic presentation of such a difficult subject is immensely popular among the student fraternity.
CS. Rajeev R. Chaudhary, B.Com. from Delhi University and is an Associate Member of the Institute of Company Secretaries of India (ICSI). He has about 13 years of teaching experience. He is also in practice and has worked on various assignments like secretarial audit, due diligence, secretarial compliance, merger, and amalgamation, etc.
He is a well-known faculty for Law subjects of CA, CS, and CMA like Corporate & Other Laws, Corporate Restructuring, Business Law, Company Law, Economic & General Laws, Capital market & Securities Laws, and various other law papers. His style of teaching is very different and he believes in the conceptual clarity of every student and always uses innovative ideas for concept clarity. His friendliness nature towards students and innovative ideas make them comfortable to ask any quarries in the class and also in understanding the concept and topic clearly.
MANISH BHARGAVA is the best faculty for accounting and advanced accounting. He has twenty-nine years of experience in teaching. He has been very consistent with his teaching skills and that adds a feather in his cap. He uses unique teaching methods like involving memory techniques to memories things faster and retain them for a longer period, using real-life examples to make the students understand the concepts better.
He aims at inspiring young aspirants to make them assume leadership positions in multiple professions and providing extensive knowledge of the subject to the students and helping them to make a firm and effective decision. His classes are available in Pendrive and Google drive form and he also provides application-based classes.